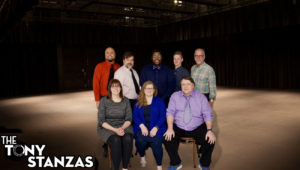 The Tony Stanzas are Northwest Indiana's premier long form musical improv team. They take suggestions at the top of the show and create a fantastic fully-improvised musical right in front of your eyes.  Everything – from the music to the lyrics to the dancing to the scene work – is improvised. They perform throughout Northwest Indiana and the Chicagoland area. The Tony Stanzas are available for corporate functions and team building exercises.
Technical requirements (all shows)
4 chairs
General blackbox lighting
General black box sound (CD player + microphone)
Backstage area (formal or pipe and drape + backstage tables)
Piano or weighted keyboard.
Where The Tony Stanzas Have Played
4th Street Theater (IN)
Chicago Improv Festival (IL)
Crown Point Community Theatre (IN)
Crown Point Food and Arts Festival (IL)
The Endurance Improv Festival (WI)
Under The Gun Theater (IL)